Converting html files into Dreamweaver templates (DWT)
What is a template.dwt file?
A file ending in the extension
.dwt
is a Dreamweaver template that uses the same layout structure throughout your site. This structure is consistent and is seldom modified. A
.dwt
file usually incorporates top or side navigation elements and includes an editable region for the content, that can be changed in each seperate html file. The main structure of the .dwt file is locked in a html file that uses the .dwt file. Only the content is editable.
When you create a new page, all you need to do is to use the command
'modify > Templates > apply template to page.
'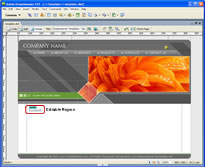 Click on thumbnail to preview screenshot of template.dwt file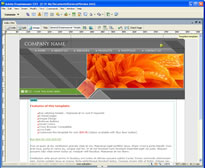 Click on thumbnail to preview html file
What are the Advantages of using .dwt files?
When you use .dwt files on each of your html files, you can edit the core .dwt file such as inserting a new navigation button or deleting an existing one, and the changes will be reflected sitewide, without having to do it manually on each html page, saving you considerable time and effort.
Steps for converting your html file into a template.dwt
Step 1
:
Create an editable region.
Open your html document in Dreamweaver and highlight the area you wish to make an editable region for. This area can be an entire text, a table or a column.
Step 2
: With your area highlighted, select from main menu
'Insert > Template Objects > Editable Region'
Step 3
: In the
'New Editable Region'
dialog box that appears assign an appropriate label for your editable region such as
'content'
. Click
'OK'.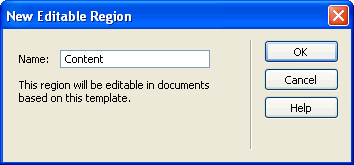 Step 4
: If you need to create additional
'editable regions'
just follow the same steps as above but assign a new label for each new region.
Step 5
: From main menu select
'File > Save As'
. Save the file
'template'
ending in .dwt format (template.dwt).
Step 6
: To create a new page from the template select
'File > New'
. In the dilaog box that appears select
'Page from Template'
. A list of your defined sites will be displayed in the second column named
'Site'
. Select a site and then
'template'
listed in the thrid column as shown in the screenshot below.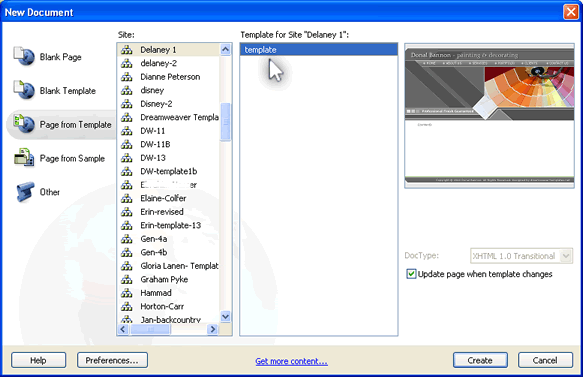 Please take a moment to Like, Tweet, or Share on this page if you found this tutorial/resource useful. Thankyou!


---