Using Find and Replace in Dreamweaver to update your site easily
The
'Find & Replace'
command in Dreamweaver is a very useful tool for updating your page or complete site almost effortlessly and saving you considerable time.
Let's say for example you have a site with many pages and on each page you wish to change a menu label, text, link or background color which is the same throughout. Instead of changing this manually on each page you can do this with
'Find & Replace'
, which will update all your pages automatically.
Here's how:
Open your html document in Dreamweaver and
select/highlight
the text or menu label you wish to replace. We are going to change the 'services' menu label to 'gallery'.

From the main menu select
'Edit > Find and Replace'.
The Find And Replace' dialog box will display. The text or menu label that you selected will be shown in the first field named
'Find'
. Type in your new label in the
'Replace'
field. Click on the
'Replace'
button.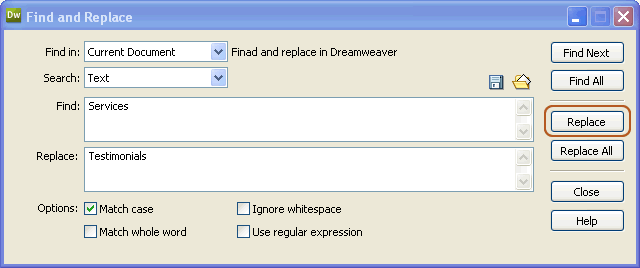 To change the label sitewide in all your html pages, select the
'folder'
drop-down option from the
'Find in'
field and then browse to the location of your html files folder.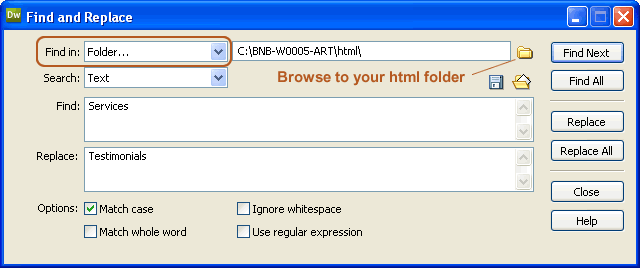 Changing a URL or hyperlink
To change the hyperlink of a text or menu label we need to first select the code by switching to code view.
First,
highlight the text or menu label with your mouse and switch to code view: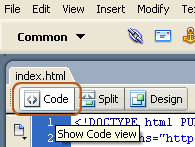 Highlight the entire hyperlink code and select from main menu
'Edit > Find and Replace'.
The highlighted code for the hyperlink will display in the
'Find'
field. Now, copy and paste this code to the
'Replace field'
changing the hyperlink or URL.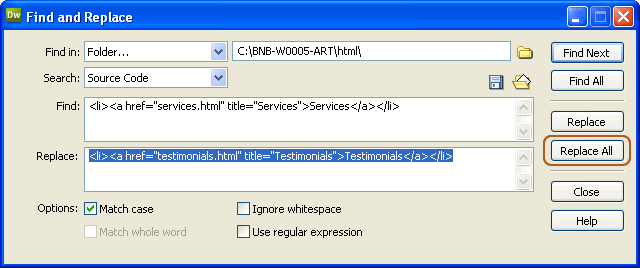 Click on
'Replace All'
button to replace the hyperlink in all your html files (
'Find in : Folder'
must be selected).
The
'Find and Replace tool'
can also be used to change background color values, incorrect tags etc.. Just make sure that you select the appropriate options either search in
'Text'
or
'Source Code'
.
---